BRUTE Mountable Van-Skid Jetter
Mountable Van-Skid Jetter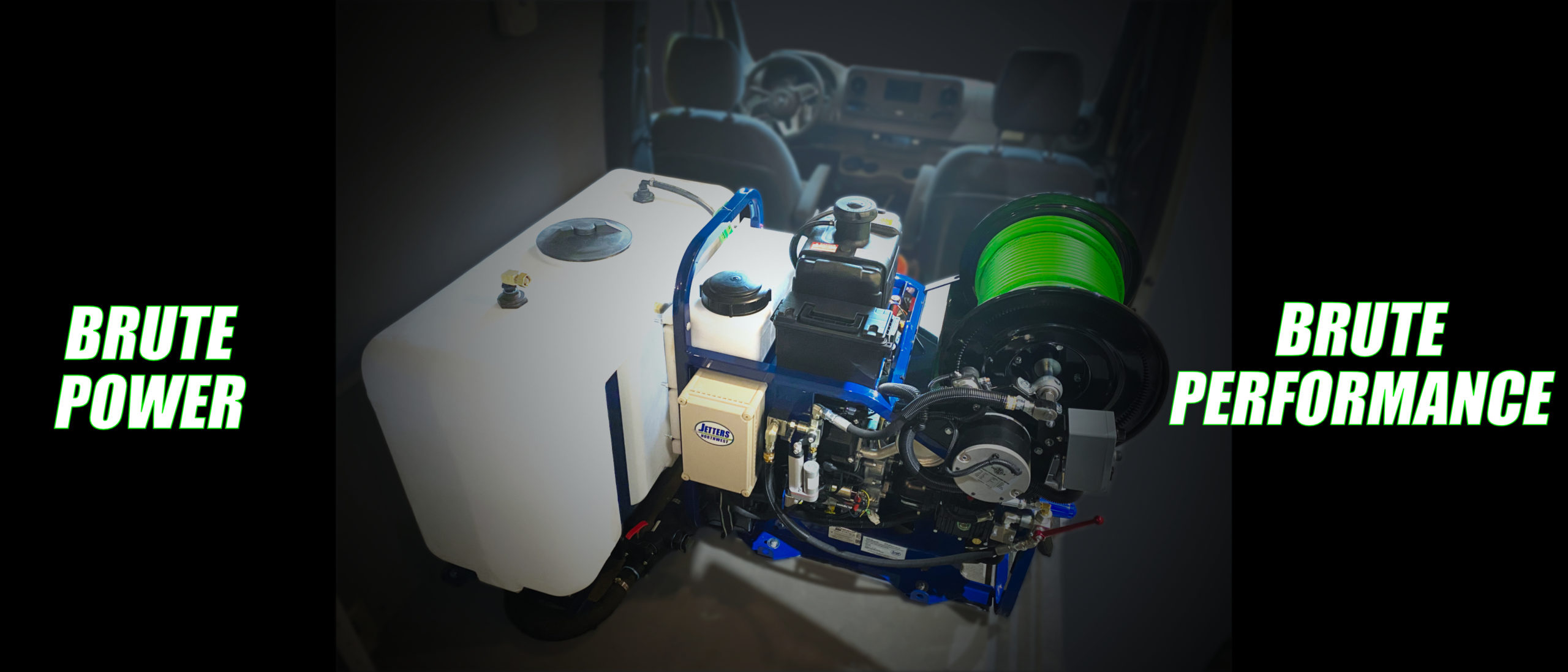 BRUTE Mountable Van-Skid Jetter
Mountable Gas-Powered* Jetters
 2 models available:
9-GPM 4000-PSI ('4009') or
 12-GPM 3000-PSI ('3012')
Call For Quote: 877-901-1936
All Controls are conveniently Panel-Mounted below the Hose-Reel for efficient operation:
Engine Key-Switch and Engine-Throttle are located on panel, near the Jetting controls
Adjustable Pressure Regulator: provides a wide range of adjustment and enables the use of Mini-Hoses, Foot-Pedals, etc.
Pressure-Gauge (liquid-filled) on the panel shows working pressure
Pulsation-Control on panel adjusts from light vibration to full pulse mode
3-Way Jetting-Control Valves (Wireless or Manual): directs water to the cleaning-nozzle OR dumps pressure by bypassing water back to the tank, keeping the pump cool
Engine Hour-Meter / Tachometer: helps track maintenance intervals, & shows engine RPM while running
Compact/ Modular Design can be configured several ways for best use of space in your van/trailer
Welded Steel Roll Cage Frame with Powder-Coated finish
12-volt Powered Hose Reel, Heavy-Duty A-Frame style (optional Adjustable Reel-Speed)
300-feet of Premium Jetting-Hose, Made in USA (400' optional)
3 Modular Water-Tank Skid Packages to choose from: 100gallon, 150gal., or 200gal. options
12-Gallon Antifreeze Reservoir built in (or use as Inlet-Water "Buffer" tank with internal Float Valve)
Fuel-Injected OHV Gas Engines (or optional 25-HP Propane-fueled-reduces PSI by -500)
4-Nozzle Set included: Penetrator, Rotator, Pusher, Flusher
UDOR "Super-Duty" Triplex Plunger Pump
5-Gallon Fuel Tank, CARB/EPA approved
Also Includes: Safety Nozzle Extension, Accessory-Adapter and Orifice-Cleaner tool
Dry Weight under 500lbs.
Van-Skid Jetter Dimensions: 45" L x 31" W x 41" H
See Tabs Below for Detailed Information
WATER TANK-SKID PACKAGES:
Includes internal Float-Valve to stop water-in when full, Hoses/Fittings for easy connection to the Brute Jetter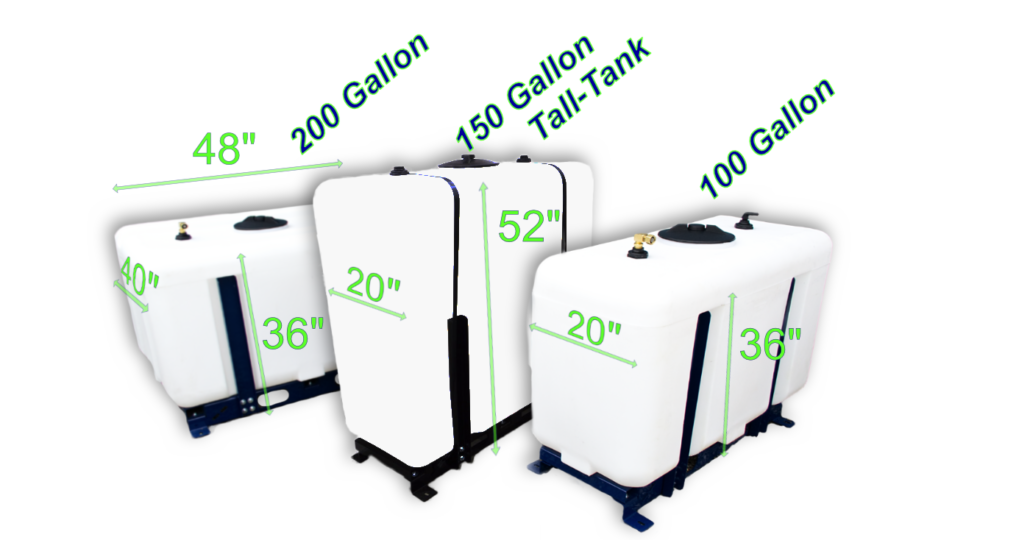 Options
Options Include:
Wireless Remote-Control
Choose Mountable-Skid or add aWheel & Brake-Kit for portability
Choose 12-GPM/3000-PSI (3012 model) or 9-GPM/4000-PSI (4009 model)
Choose from these 3 Hose-Reel types: (a) Hand-Crank Rewind, (b) 12-Volt Power-Rewind, or (c) 12-Volt Multi-Speed Power-Wind with Forward/Reverse Control
Larger Water tanks to increase available water storage (Mountable or Portable tanks)
Portable "Satellite" Hose-Reels for Remote / Indoor Jetting
Mini-Hoses and small-drain Jetting-Kits
Foot-Pedal Valves for Remote Jetting-Flow Control
Root-Cutting and Grease-Clearing Nozzle-Heads available; WARTHOG, Grease-Hog, RootRanger, TurboChain, Jackhammer, Chisel, and many more
Water Tank-Skid Packages
Complete your mounted Brute Jetter package with one of our standard tank options. Tank/Skid Packages include:
Water tank with Jetter Supply and Return fittings, Garden hose fill inlet with float style shutoff valve.
Hose connection kit (6ft. Suction Hose – 10ft. Return Hose) Shutoff valve and fittings for different configuration types.
Powder-coated Steel support frame for secure mounting to your truck, van or trailer.
Choose between 100, 150 or 200 Gallon tanks to increase water capacity. Also allows your Brutes' on-board tank to be used for anti-freeze during winter!
Detailed Specs
12-GPM/3000-PSI model; comes with 300 feet of 1/2″ ID Jetting-Hose
9-GPM/4000-PSI model; comes with 300 feet of 3/8" ID Jetting-Hose
 
Control Panel:
Located conveniently below the hose reel, our Control-Panel contains all controls for jetter operation, including Engine start/stop, engine throttle, hour meter, pressure adjustment, flow on/off, adjustable pulsation control, and pressure gauge.
 
Engine:
Kohler Engine with 3-Year Factory Warranty
V-Twin Cylinder Engine; Powerful and Reliable
Electronic Fuel Injection (no choke needed)
Electric Key-Starter (battery included)
Fuel Efficient Overhead Valve Design (OHV)
0 HP @ 3600 RPM, 720cc displacement
Pressurized Lubrication with Filter
Smooth and Quiet Operation
Super-Duty Pump:
UDOR Super-Duty G-Series Pumps with 5-Year Factory Warranty
Forged Brass Manifold with Stainless-Steel Valve-Covers
Triplex design with Solid Ceramic Plungers
Long-Life High-Pressure Seals; "U"-Shaped
Stainless Steel Check Valves
High-Strength Bronze Connecting Rods
Large Capacity Oil Bath Crankcase (40oz. Capacity) with Visual Oil-Level Sight Gauge
Heat Treated Crankshaft with Tapered Roller Bearings
 Roll-Cage Frame:
NEW Modular Frame Design can be configured for use as a Portable Jetter or as a compact Mountable-Skid Jetter; either option you choose can be changed later as your needs change.
Fully Welded Steel Construction
Durable Powder-Coat Finish
Brushed Stainless-Steel Control Panel
Brushed Stainless-Steel Drip-Deflector Plate under the Jetting Reel
Integral Lifting Point for use with boom-lift or crane
Mountable-Skid models feature Integral Mounting Slots, and an Exhaust-Diverter
Portable 4-Wheel models feature Folding Handles with rubber grip, 13" Pneumatic Tires with Steel Wheel-Bearings on 3/4" Solid Axles, and a secure foot-operated Wheel-Brake.
Heavy-Duty Hose Reel:
Quality CoxReels Hose Reel with 2-Year Factory Warranty
All Welded Steel A-Frame Construction
Exclusive low profile outlet riser & open drum slot design for flat smooth hose wrap
Permanently lubricated self-aligning pillow block bearings for trouble-free & smooth rotation
Adjustable tension brake to prevent "free-wheeling" during operation (Hand rewind models only)
5000-PSI rated Hose Reel Super Swivel with grease-fitting
Locking Pin to secure reel from rotation during transport or storage (Hand rewind models only)
Optional 12-Volt Power-Rewind; choose either (a) Single-Speed Push-Button, or (b) Multi-Speed with Forward/Reverse Control
Jetting Hose:
Our Jetting Hoses are made in the USA using the highest quality materials and manufacturing standards:
3/8" Jetting Hose (4009 models)
Hi-Visibility Green Color with Bonded Construction
4,000-PSI Working-Pressure / 10,000-PSI Burst rated
Polyester Braided reinforcement
Proprietary Urethane Blend Cover ("Tuff-Skin")
Low Coefficient of Friction
Excellent Cut, Gouge and Abrasion Resistance
Slim Profile and Light Weight
Flexible and Kink-Resistant
Polyester Elastomer Inner Tube
1/2″ Jetting Hose (3012 models)
Hi-Visibility Green Color with Bonded Construction
4,000-PSI Working-Pressure / 16,000-PSI Burst rated
Aramid (Kevlar) Braided reinforcement
Proprietary Urethane Blend Cover ("Tuff-Skin")
Low Coefficient of Friction
Excellent Cut, Gouge and Abrasion Resistance
Slim Profile and Light Weight
Flexible and Kink-Resistant
Polyester Elastomer Inner Tube
12 Gallon Water Tank:
Suitable for use as a "Buffer Tank" and/or an Antifreeze reservoir
Jetter can draw from this on-board tank, or be supplied by a separate/larger water tank for increased capacity. (Optional larger Water Tanks available)
Float-Valve Water-Level Control
Polyethylene Plastic Construction is corrosion-free
Durable Thick-Wall construction
Installed "spin-weld" Fittings
Fuel Tank:
CARB (California Air Resources Board) and EPA Compliant tank
Meets Low-Permeation standards
Carbon Absorption Canister scrubs off vented fumes and returns them to the engines intake (vents fumes only under pressure)
 Nozzle Kit:
4-Nozzle Set includes the following:
Penetrator Nozzle (1 Forward-jet & 4 Rear-Jets, shallow-angled) for clogs, & cleaning
Flusher Nozzle (6 Rear-jets, wide-angled) for max pulling-power, flushing, & cleaning
Pusher Nozzle (3-f. x 6-R.); max forward-blasting for clogs, pushing debris, de-icing, etc.
Rotator (Spinner) Nozzle (2-R.); Jets rotate at high speed for removing sloppy grease, loose scale, and general polishing / finishing of the pipe
Safety Nozzle-Extension: for use in larger pipes to resist nozzle turn-around
Tool and Accessory Adapter